The Delco Group Christmas Wish is back again!
The Christmas Wish is one of our favorite events of the year.  On this special day, we visit multiple families in Delaware County and surmise them with a little bit of Delco Christmas Cheer!  Year in and year out we are able to help multiple families on this fantastic day!  Please, spread the word, and help us find the right people to do something special for this holiday season.  If you know someone that could truly use a little help or a special surprise this year, please fill out a Christmas Wish Application and submit it to the Info@TheDelcoGroup.com no later than December 1, 2021. Then, keep an eye out for The Delco Group and their buzzed Delco Elf this holiday season!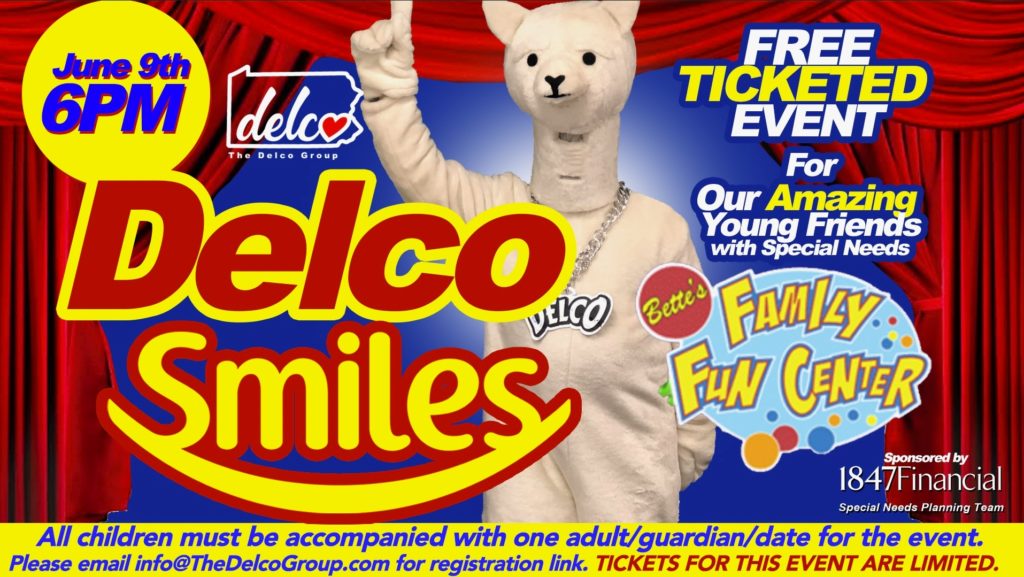 Delco Smiles is BACK!
One of our favorite events. A night for our young friends in Delaware County with Special Needs. This event is a night for them to shine like the stars they are! A completely free event (must register), filled with fun, dancing, music, games, food, prizes and more!
The event will be hosted by one of our event Sponsors Bette's Family Fun Center in Aston on June 9th
Our other sponsor for this event is Patrick Bergmaier of 1847 Financial a certified special needs planner!
Registration is FREE, but completely necessary for entry. Registration is very limited.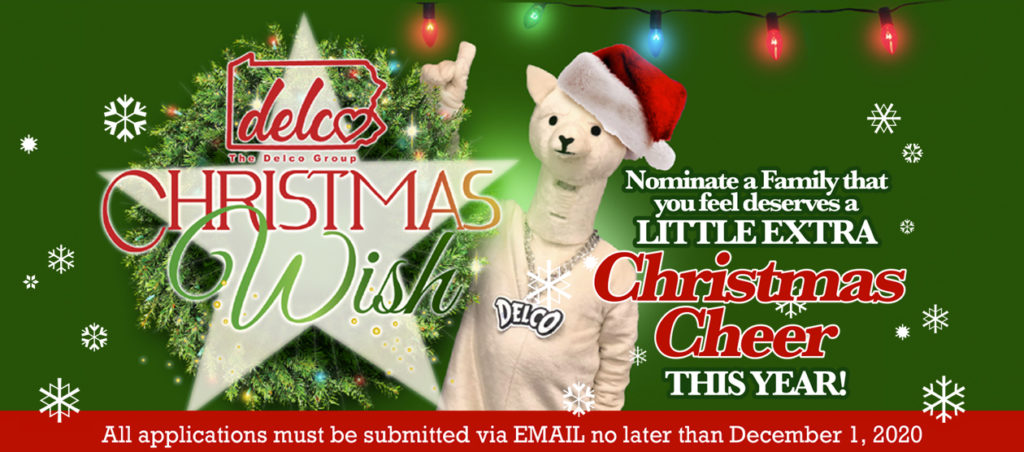 The Delco Group Christmas Wish
The Delco Group wants to help make Christmas time extra special for some families/individuals in the Delaware County area this year. We are asking for nominations for The Delco Christmas Wish before December 1, 2020. We are looking for people/families that could use an extra pick me up this time of the year. It could be a family that has fallen on difficult circumstances, faced illnesses, etc. It could be someone that does so much for everyone else, but never gets a treat from themselves. We are looking for unique situations and circumstances with opportunities to make this Holiday extra special for as many people as we can.
Once applications are in, each application will be reviewed, and a final number of candidates will be selected based off of multiple sets of criteria. From there, if selected for review a Delco Group Representative will reach out to the person that completed the application form to finalize the review process. Delivery of Christmas Wish is TBD, and will be coordinated directly with those selected.
Thank you for your consideration and application!
The Delco Open is a tradition unlike any other. Arguably the best golf outing in the history of the world, The Delco Open is the staple event for The Delco Group. What can you expect at The Delco Open? Crazy cool gear, great gifts, fantastic door prizes, surprises at nearly every hole, Cargo shorts (unfortunately), and a Golf outing unlike anything you've ever experienced. Picture a golf outing, combined with an amusement park, and sprinkle in a dive bar in Delco on Thanksgiving Eve!
Good luck getting into this event, as it is also the hardest event to get a ticket for. Last years Delco Open sold out in under 30 minutes.
Often imitated, but never duplicated. The Delco Open
---
The Delco 100
Imagine the skulls, meets the stonecutters, meets some other stuff that no one talks about. 100 Delco Fancy people. One night. That's all we're saying.
This event could be the event that started it all, or it couldn't who knows?! One thing is for sure, Pong Aid is the most legit Beer Pong tournament in the State of Pennsylvania, voted by Time Magazine as the number one Beer Pong event on the East Coast (Don't fact check that). This is an event that started years ago, with a few guys and their Eagles bus. It has become an event that people cannot wait for each year. Its always a blast!
---
The Delco Halloween Bash of the year. Delcoween is everything you need in a Delco Halloween Party. DJ Big Daddy Gurn, A band, Open Bar, Weird costumes, and unlimited dance circles.
---
The Sassy Massey TOY Drive Party
This is one of our favorite days of the year, and one of the things that led to the start of The Delco Group. The Sassy Massey Toy Drive is an unbelievable Toy Drive. Making sure that the children at every local hospital not only receives a toy at christmas, but all year long! Our favorite part of this day, is the toy drive assembly line at the end of the night, it is truly a sight to see!